The term "cloud computing" identifies a specific model for processing and managing software applications.
The applications are provided as a service via the Internet, where all the processing of the installed software is performed – hence the idea of a space intended as a cloud.
This reduces costs and facilitates the complexity of managing and configuring hardware and software system.
Users can access management applications in Cloud using any computer or device connected to the Internet. This is a significant advantage in terms of flexibility and accessibility to information.
The Cloud embodies our core business: we care about the provision of all services, from those necessary and crucial to those dedicated to superior business management needs.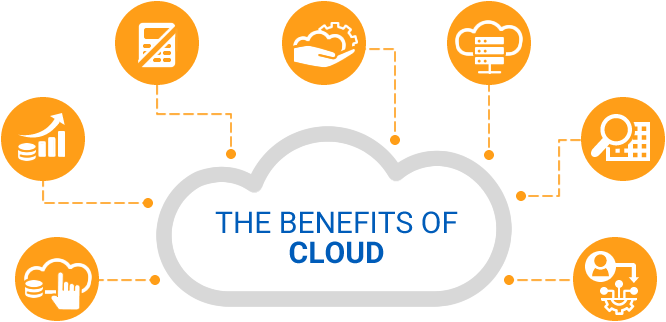 Pay according to actual use
Pay in relation to the growth
No depreciation costs
Easy to manage
Virtualized environments, NO Hardware
Focus on core business
Delegate technology and maintenance
The security of an ERP in Cloud
This is a very important aspect when choosing an ERP service provider in Cloud.
We consider the security and availability of the system to be fundamental elements for the performance of our application service.
After all, if the user cannot access the system, his work stops, causing considerable inconvenience. The same principle is valid for privacy and data security.
Data are encrypted and replicated on different data centers in order to guarantee the highest level of data security and certified platform.
The features of an application in Cloud
Not all Cloud management services are the same. Before choosing an ERP Cloud service provider, check the type of application it offers.
Why can't we compare this mode to the modern native applications for Web and Cloud services?
Today the way we work has changed completely and, for this reason, we need applications designed for today's needs, habits and devices.
A native Web application takes advantage of standard Internet technologies, therefore:
Modern and simple to use functional design

It works with the Internet browser: the user must not install any programs on his computer

Compatible with multiple operating systems (Microsoft, Mac OSX, Linux) and with different devices (Desktop, Tablet, Smartphone)

Fast and optimized to minimize the amount of data to be transmitted to the server

Scalable, that is, the servers that run the Web application can support a much higher number of users than the servers that host Terminal Client Server applications. This translates into less use of computational resources and therefore lower costs for the supplier and for the end user.
The concept of Cloud as a Service

It is not just a matter of technology. Those who choose an ERP in Cloud, first of all, choose a service provider. It is therefore important to understand whether the provider has thought of all the fundamental services for the delivery of applications in Cloud.
Learn more about our cloud-oriented philosophy